Our Top 5 Takeaways from Google Marketing Live
Last week, Google announced over 15 tools and enhancements that are going out for advertisers and businesses. This is fantastic news for the small business who may not have had the money for the play to pay game. We think this will make Adwords more accessible, easier to distribute across channels, and get on par with Facebook's visual advertising model.
Here are our top 5 announcements we are excited to see!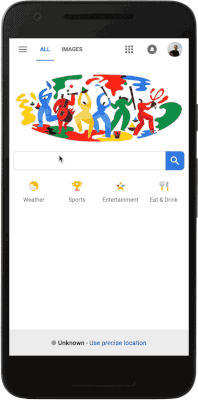 Image Credit: Google
Showcase Shopping Ads and Homepage
While we've seen similar functionality in recent months, Google has set the bar high in delivery. Not only can you see examples of the products, but consumers are also directly driven to the website. It's a win-win for businesses who have e-commerce offerings.
Additionally, they introduced a shopping "homepage" that tailors the Google Shopping page to the users' past searches and purchases. Users can filter through their searches to find exactly what they want and purchase directly through Google. Want a buy online and pick up in-store option? Sign up for the Beta testing!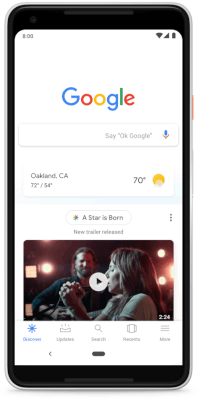 Image Credit: Google
Discovery Ads
Google revamped its feed to introduce a Discover feed. It's a whole new look and feel that taps into their millions (billions?) of searches made around the world every day. Google is adding in extra tech features like a new Topic Layer in their existing Knowledge Graph feature. Essentially, this allows consumers to come back and find you more quickly when they need to put down their phone.
Say a user is looking for airplane tickets to Bali. Not only will the discover feed show upcoming flights, but it will also show everything from local restaurant reviews to evergreen content like travel blogs, telling them where to go and what to do. This is a home run for content marketers, as we suddenly can reach new audiences who haven't yet discovered your brand.
Oh and the cherry on top? These ads can now be delivered on YouTube, meaning you no longer have to have a video to reach those audiences!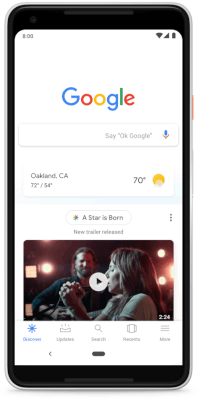 Image Credit: Google
Image Credit: Google
Bumper Machine
Holy smokes this is the big one. Remember how in the last few years, everyone has been pushing video? For most small businesses, creating 5-10 cuts of a video for every digital and television channel is WAY TOO EXPENSIVE.
So when Google said, "hey everyone! Let's do bumper ads!" you could feel the collective marketing world heave a sigh of frustration. They heard our cries and introduced Bumper Machine this year.
The premise is simple: upload ONE video, and Google does the heavy lifting for you–creating multiple 6-second videos for you to use throughout your advertising campaigns. Hallelujah!
It's in alpha testing now, but you can expect to see it come out this year.

Image Credit: Google
Tag Manager Custom Templates
Ok, this one is a little more technical and doesn't sound like fun but stick with us. Google Tag manager was introduced a few years back as a way to collectively track pixels and tags without having to inject code in every header. We prefer Tag Manager over straight analytics for this reason- we can not only track Google but also Facebook, form fills, e-commerce, you name it. It's the best way to track your digital presence, like what you would when a consumer came into a brick-and-mortar.
Typically, you needed someone with at least some coding knowledge to create the workspaces. In the past, we created .json files for users to import settings without having to know how to code. Custom templates all but eliminates that need.
Additionally, this protects consumers even more. By using APIs, developers can further limit what 3rd party apps take from consumers (coughFacebookcough).

Image Credit: Google
Privacy Commitment
Google is going all-in on their commitment to privacy. Personally, we love this. Will it make advertising a little harder? Maybe. We're also consumers, however, so we appreciate the drive to protect our personal data.
The reason this is important? SEO results are now being driven by not only keywords but brands who are committed to their consumer base. That means you have to be trustworthy, give rich answers, and be ok with the consumer journey, all while protecting the consumer's data.
Lucky for our clients, this isn't news to us. We've been changing our way of thinking ever since Google released their search guidelines last spring. If you want 160+ pages of excellent SEO reading, here you go. If you want us to do the work, that's fine too. 😉